A Little Bit of Everything! Check here often for a variety of posts about enjoying the "Good Life" in Kentucky.
We hope you'll frequent this category of our website to read a variety of posts about "Living the Good Life in Kentucky". For our very first post, we thought it was appropriate to write "a little something" about this category's namesake, "Kentucky Burgoo – A Little Bit of Everything!".
Kentucky Burgoo – The Perfect Autumn Stew!
Posted 11/11/19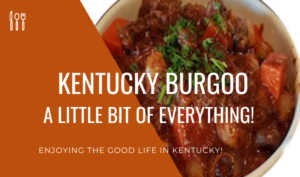 Kentucky Burgoo is a traditional, hearty stew that is popular in our Commonwealth, especially when the cool autumn weather arrives, and it also makes a come back in Spring as a part of the many culinary events associated with The Kentucky Derby.
A Little Bit About Kentucky Burgoo
We researched the origin of this hometown dish, and found that Kentucky Burgoo's history is as varied as its ingredients!  There are many different accounts of how Kentucky Burgoo made its debut. Many believe that it was first created during the civil war, when a cook in the Confederate army made the officers a "tasty" concoction filled with a little bit of everything, including crow, blackbird, and wild game! Some state that Kentucky Burgoo was a hunter's stew that traveled to our state with the pioneers as they migrated West. Yet others say that Kentucky Burgoo was simply a "poor man's stew" that was crafted out of whatever meats and vegetables were available and prepared as a group effort associated with the fall harvest.  
Regardless of its diverse and somewhat ambiguous history, most agree that Kentucky Burgoo has several things in common: it begins with a base of at least 3 meats; continues with the addition of a variety of starchy vegetables; and ends with flavorful spices. In the old days, Kentucky Burgoo was cooked in an iron kettle and started with fresh game meats (venison, squirrel, raccoon, game birds, possum), followed by whatever vegetables and spices were available. Today's chefs choose a more modern recipe, like the one below, that combines meats such as pork, chicken, and beef with a medley of colorful vegetables, and the addition of spicy condiments to enhance the flavor. Both traditional and modern recipes require cooking the ingredients over low heat for serval hours to allow the flavors to meld together into a tasty stew.
So go get your soup pot (or iron kettle, if you have one!), mix in "a little bit of everything", add a sprinkle of patience, then enjoy a bowl of Kentucky Burgoo with family and friends!
RECIPE FOR KENTUCKY BURGOO
Ingredients:
3 tablespoons of vegetable oil
4 boneless chicken breasts, skinned and cut into chunks
3 lb. chuck roast, cut into chunks
3 lb. pork shoulder, cut into chunks
1 green pepper, chopped
1 large onion, chopped
2 large carrots, chopped
2 celery ribs, chopped
5 garlic cloves, chopped
3 large russet potatoes, peeled and diced
14 oz. bag of frozen corn
14 oz. bag of frozen lima beans
28 oz. can crushed tomatoes
1 quart of chicken stock or broth
1 quart of beef stock or broth
1/4-1/2 cup Worcestershire or Steak sauce
Salt and pepper, to taste
Red hot sauce, to serve on the side
Parsley or green onions for garnish
(For a grown-up version, add a splash of Kentucky Bourbon!)
Directions:
Heat vegetable oil on medium-high heat in large soup pot, salt all meats well, then brown, then remove meats and place in a bowl to add back later. 
Cook onions, carrots, celery, and green pepper in same pot (add more oil if needed).  Add a few sprinkles of salt to vegetables as they are cooking. 
After these vegetables are browned well, add garlic and cook for 30 seconds to 1 minute.  
Return meats to pot along with chicken and beef broth. Add can of tomatoes.  Stir.  Simmer over low heat for 2 hours. 
Add peeled and cut potatoes (cut potatoes the same size as the meat pieces).  Cook for 45 minutes
Measure in Worcestershire or Steak sauce, mix well. Add salt/pepper and extra sauce to taste.
Mix in the lima beans and corn and cook for 10 more minutes.
Now add hot sauce to taste, or serve on side.
Ladle into bowls and garnish with parsley or green onions.
Serve with freshly baked bread or corn muffins.